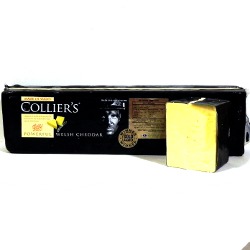 Cheddar Welsh: Wales Lb.
$15.29
Collier's Powerful Welsh Cheddar Cheese
Origin: Wales
Type: Pasteurized cow's milk with a medium texture.
Characteristics: light yellow in color with a savoury, yet slightly sweet taste.
Collierís Welsh Cheddar brings together the finest ingredients, a heritage of cheese making and a particular recipe to produce a product of unmistakable quality and character.
Collierís Powerful Welsh Cheddar is made in the beautiful Welsh mountains of Denbighshire.... Milk is collected from farms and taken to the creamery where it undergoes rigorous quality checks, before being transferred to vats so the cheese making process can begin. Throughout manufacture, care is taken to ensure the utmost quality. During that time, it is closely monitored by just two expert graders, to guarantee the texture and extraordinary taste that is Collierís Powerful Welsh Cheddar. When our grader is satisfied that Collierís is ready to eat, it is moved to the cutting line, to be packed into its distinctive black wrap, boxed and sent to Pennsylvania Macaroni Co."
Lb Pc