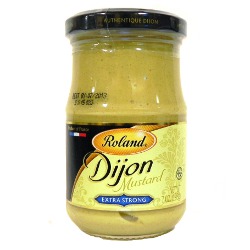 Dijon Extra Strong: Roland
$3.29
Roland Extra Strong Dijon Mustard
From the celebrated manufacturer Roland, we get extra strong Dijon mustard. This Roland mustard is truly French as it is packed under French government supervision. Its rich flavor and smooth, non-gritty texture will have you believing that you too are in Europe, enjoying this mustard. And because itís classified as extra strong, it has the great kick and bite that you are searching for, but no bitterness due to low acidity, a perfect combination!
When examining this mustard you will notice that its color is darker than other Dijons you may have seen in the past. This is because it is made from black mustard seeds (what many consider to be the best kind), not a combination of black and brown seeds.
Use this mustard by itself or with other things, any way you like! Because of its smooth consistency it is perfect for salad dressings and sauces. For lunch, work it into classic egg or chicken salads for a new variation. This mustard doesnít break down under heat so you can also use it to make a fabulous dinner by spreading it on a leg of lamb prior to roasting. Many people suggest incorporating this Dijon into a snack with sharp cheddar cheese, apples and bread. With only 10 calories per serving, use it as much as you want and we promise you, you will want to use it all the time!