Ordering and Shipping Information
How to Order

Ordering from PennMac.com is easy and secure. Shipping costs are calculated by weight and zip code.
In most cases the difference between 2 and 10 items may only be an additional $1.00 in shipping costs!
Use our easy search tab to locate a specific product.
Click the "Add to Cart" button beside each item to add it to your shopping cart.

Shopping Cart Summary-You may modify your shopping cart at any time by changing the order quantity or removing items from your shopping cart.
Billing Information-You will be asked to enter your billing name and address in this section.
Ship to Address-You will be asked to enter your Ship To address in this section if different from your billing address. : Our shopping cart allows for only one shipment location per order. If multiple shipment locations are desired, you
will need to place individual orders. Please note that all orders are shipped via FedEx, we can not deliver to a P.O. Box or APO address.
Perishable items can not be shipped out of the U.S. Shipments to Alaska or Hawaii, must be expedited, and can not be shipped Ground/Home delivery!
Please see map of the United States under Shipping Info for normal ground shipping or home delivery times.

Order overview and Shipment Details-This section will display what is in your shopping cart and provide you with a drop down menu (click arrow)for shipment options ranging from overnight shipments to ground or home delivery, remember if you live on the West Coast of the U.S we recommend you chose EXPRESS SHIP when ordering frozen items.Penn Mac ships perishable items so the arrival time will be by Friday (or Saturday if a residence), otherwise we will hold these items back till the following Monday to assure the best quality,(please check map for shipping times). We ship all orders via FedEx and fulfill all orders within 48 hours of receipt. We will fulfill an overnight order for shipment the same day if placed by 10:00 AM EST. If you have special shipment requirements, click the SPECIAL NOTES & REQUESTS TAB on the check-out page and enter all your requests. Please review the map of the United States under Shipping/Ordering info for delivery times to your area.(Drag your page down to the bottom of the page for a color coded map of the US with the transit times).

Complete your Transaction-Continuing on the same page as the order overview and shipment details you will scroll down - be sure to check all the billing and shipment information you have entered (if you notice a mistake - click on edit next to the billing or shipping detail and make the appropriate changes). You will then enter your credit card information and click on Submit Order. Voila! Your order is complete and has been sent to our service partner for order fulfillment through a secure connection that encrypts your credit card and other information for your protection. You will receive within 5 minutes an order confirmation via email. Please keep this confirmation as your receipt of sale.

Please Note: Your credit card will show your order as a AUTHORIZATION (auth) to the "Pennsylvania Macaroni Company", we will only charge your card when the order is shipped.

Sales Tax
Sales Tax is charged on Gift Baskets only to Pennsylvania residents only.

Payment Methods
We accept Visa, American Express, Mastercard, Discover and American Express. We are unable to accept cash or ship COD.

Out of Stock Policy
When a particular item is not available or out of stock, we will then select a substitute automatically, but only if it is comparable, some items like D.O.P'S and Caputo that are a one of a kind item...there is no substitute and your order will be adjusted. It is very important to enter your correct "DAYTIME PHONE NUMBER" in the billing section for this situation. If you are a return customer ....your cart will stay loaded with your previous order, please check your individual items for availablity!

Alternative Ordering Options
Fax orders to 412-201-4751. Please include all billing and shipping
information and we will contact you during normal business hours.

Return Policy
We guarantee that every product you order from PennMac.com will arrive in safe condition. In the event of damage, please email at service@pennmac.com and we will replace the product if applicable. Please include your PNMC # for easy reference! Please keep all packaging and shipment box and maintain any product as appropriate until order resolution.

Canceling Orders


Frequently Asked Questions

Q: How can food ordered on-line possibly arrive in good condition?
A: PennMac.com cares about You, the customer, therefore we take special care in packaging and shipping of our orders. Each order is picked, packed and prepared for shipment the day the order is scheduled to ship. We use 2 inch thick styrofoam coolers, ice packs and dry ice for perishable items.

Q: Is it safe to use my credit card online?
A: At PennMac.com, we take the utmost precautions to ensure the security of all of your account information. Each transaction is done in a secure environment that encrypts your account information for your protection. When you complete your order...Penn Mac will only be AUTHORIZED to use your card, we will only settle or charge your card once the order is shipped!

Q:Where can my order be delivered?
A: Your order can be delivered to a commercial or residential address as long as all correct shipping
information is entered during the order process. Please note that some shipping methods for residential deliveries do not require a signature therefore your shipment box could be placed outside of the residence. If you have any questions or concerns about shipping options - please contact us at service@pennmac.com.

Q: What are the shipping rates?
A: Due to the unique nature of our products, we do not offer FREE shipping. (Unless you order The Cheese or Pasta of the Month Club!

Q: Q: Can I order now and choose a specific arrival date in the future?
A: Yes, during the check-out process...click the special requests and notes tab!



Shipping Info
Orders ship with FedEx within 48 HOURS, when your order is received MONDAY through THURSDAY.

Shipping days at Penn Mac do NOT include Friday, Saturday, Sunday, or Holidays.

FedEX does NOT delivery to HOMES on MONDAYS!

Perishable items can not be shipped out of the U.S.
Shipments to Alaska or Hawaii, must be expedited, and can not be shipped Ground/Home delivery!

If your order contains perishable food, our staff will check the Fed Ex transit times to your state.

We will not ship, unless we know your package will reach it's destination before the weekend, or in some cases Holidays!

If that is the case...Perishable shipments will be held back over the weekend and shipped on the following Monday.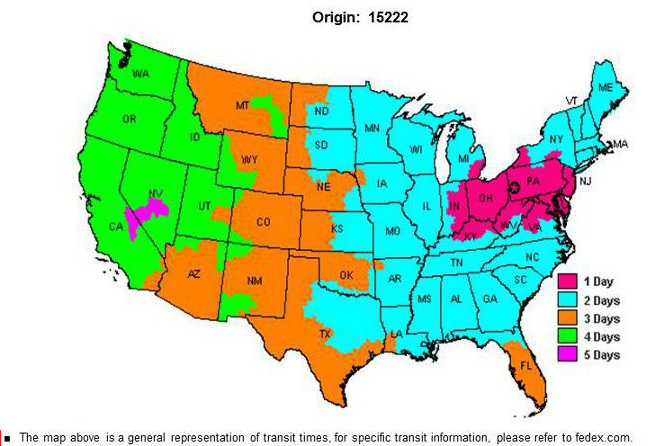 <