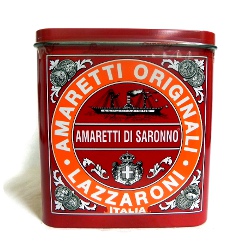 Amaretti Tin: Lazzaroni
$10.39
Decorated Small Tin - Italian cookies maded slowly and carefully according with the 1718 original secret recipe. The secret recipe has been preserved and prized by Lazzaroni in Italy. Amaretti Originali Cookies go well with a fine wine, liqour and coffee!

Net wt. 4.4 oz - 125g

Ingredients: sugar, apricot kernels, egg white. May contain traces of: soynuts, tree nuts, wheat flour. Free range egg. Keep in dry and cool place.