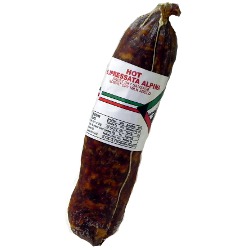 Sopressata N/C Hot: Alps
$17.95
Alps Natural Casing Hot Sopressata-made in the USA.
Sold by the piece, NOT SLICED, weighs anywhere from 1Lb to 1 and 1/2Lbs.
We will adjust your price according to the weight of the piece, and charge you $15.95 per Lb.
A spicy pork salame with garlic, it's got intense color with a slight bite.
Ingredients: Pork salt, non-fat dry milk, dextrose, paprika, crushed red pepper, sodium erythobate, potassium nitrate, lactic acid starter culture, sodium nitrite.