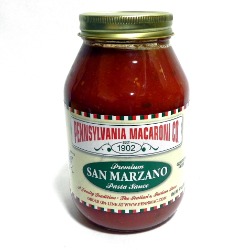 Penn Mac's: San Marzano
$5.00
REG PRICE $6.49
Pennsylvania Macaroni Co. Premium San Marzano Pasta Sauce
32oz
Distributed By: Pennsylvania Macaroni Co INC.

We've said it once; we'll say it again. San Marzano tomatoes are simply the best. That's why we've included them in our own pasta sauce! There are few things better than the scintillating flavor of hot red sauce, no matter the dish it's accompanying. Whether you're baking a homemade pizza, making an Italian spaghetti or lasagna dish, or readying a pan of eggplant parmesan, you can't go wrong in using Penn Mac San Marzano tomato pasta sauce.

All things considered, though, we realize that there are many wonderful spaghetti sauces out there - some even including the highly sought San Marzano tomatoes. So, what makes the Penn Mac brand the right choice? Well, not only does our sauce tickle the taste buds like the rest of the best, but it also does so with healthy ingredients. Take a look at the ingredients below, and you'll see that we're dedicated to both taste and well-being.

What's more is that our San Marzano pasta sauce has all of the flavor and character of an authentic Italian homemade sauce straight from Grandma's kitchen. There's a little piece of Italy in every jar! We're sure that you'll taste it!

For over 100 years the Sunseri family and its great employees have provided Pittsburgh with top quality imported and specialty foods. We hope you enjoy our sauce as a part of your family's tradition. Add this high quality ingredient to any dish to give it that gourmet touch.

Ingredients: Vine ripened "San Marzano" tomatoes, pure olive oil, Italian seasonings, fresh garlic, salt and spices.
Gluten Free

Looking for a Expiration date?
We use the Julian calendar:
Look on the neck of a jar of sauce for a code:
"PEN" and the next 2 numbers- means it is our company's sauce
The 2 numbers after that is the year it was produced.
The last 3 digits are the day it was produced out of 357 days in the year.
Our sauces are good for very well over 2 years!