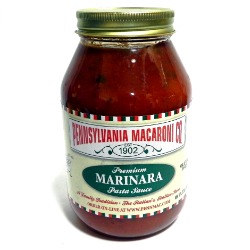 Penn Mac's: Marinara Sauce
$5.00
REG PRICE $5.99
Pennsylvania Macaroni Co. Premium Marinara Pasta Sauce
32oz
One of our favorite pasta sauces is our own gluten free marinara sauce.
If you love red sauces, particularly gourmet marinara sauce, you needn't look any further.
Your search has reached its final destination.
No matter the dish you're cooking (or dipping) in this sauce, we're sure that it will meet your highest expectations. We've heard great things, not to mention tasting it for ourselves! Whether you're delving into a new recipe that mandates marinara sauce or looking for something that's fit for dipping fried appetizers in, this stuff will get the job done. Give it a try - the absolute best marinara sauce that money can buy!
For over 100 years the Sunseri family and its great employees have provided Pittsburgh with top quality imported and specialty foods. We hope you enjoy our sauce as a part of your familyís tradition. Add this high quality ingredient to any dish to give it that gourmet touch.
Ingredients: Vine ripened tomatoes, pure olive oil, fresh garlic, Italian seasonings, salt and spices.
Gluten Free
Looking for a Expiration date?
We use the Julian calendar:
Look on the neck of a jar of sauce for a code:
"PEN" and the next 2 numbers- means it is our company's sauce
The 2 numbers after that is the year it was produced.
The last 3 digits are the day it was produced out of 357 days in the year.
Our sauces are good for very well over 2 years!