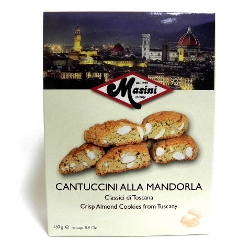 Cantuccini Alla Mandorla:Masini
$4.59
Cantuccini Alla Mandorla - Crisp Almond Biscotti - Florentine Cookies
Net Wt. 8.8oz. Box
When it comes to the absolute best Italian snacks, none will leave your mouth watering quite like Cantuccini Alla Mandorla - a crisp almond biscotti straight from Italy. What separates these Florentine cookies from the other snacks and desserts? Well, that all depends on who you ask. Some love the crisp, baked texture. Others are taken by the rich, nutty flavor. All, though, are compelled to take another bite. If you appreciate the taste of Italian biscotti, you won't be able to resist this stuff!
If you're looking for a great snack for family get-togethers, look no further. Unless there's someone with a nut allergy, you'll find that Cantuccini Alla Mandorla is an especially placating appetizer. Not only does it taste great, but it also give your dining room or kitchen that homey Italian feel. Let's be honest - most people like a good almond biscotti. When it's made to perfection, like this is, it's almost irresistible.
As far as accompaniments go, your options range from coffee alternatives to various wines. In Italy, biscotti is a popular complement to a black coffee or espresso. Dipping the cookies in the coffee or espresso can make for a soft, flavorful bite - something that many cherish. As far as wine goes, one tradition (born in Tuscany) mandates that biscotti eaters dip their loaf pieces in Vin Santo, an Italian dessert wine. Interestingly enough, the makers of both Vin Santo and Cantuccini Alla Mandorla agree that this dipping should not be practiced when consuming their products together. To each his own, though. We're confident you'll find a way to enjoy it!
Ingredients: fine wheat flour, sugar, almonds (17%), eggs, egg yolk, butter, honey, partially skimmed milk, raising agents: salt, flavors, vanillin