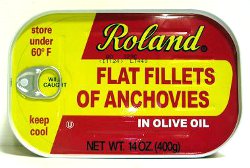 Roland: Anchovies Flat Fillets
$16.19
Roland Brand: Flat Fillets of Anchovies in Olive Oil
14oz Tin

Product of Morocco

Ingredients: Wild Caught Anchovies, olive oil, salt.

Recipe:
Classic Tapenade

1.5 lbs Pitted or Sliced Kalamata Olives
1 cup Olive Oil
12 Roland Anchovy Fillets, rinsed well 3 Garlic cloves
6 Tbsp Capers 2 Tbsp Dijon Mustard
3 Tbsp Balsamic Vinegar Black Pepper for Taste

Place olives in food processor, and process for 30 seconds. Slowly pour the olive oil into the olives while the processor is running, another 15 seconds. Add remaining ingredients, and process until desired texture is achieved. Season to taste with black pepper, Tapenade will keep a week in the refrigerator and the flavor will intensify with age.

Yield: Approximately 4-4 ½ cups.