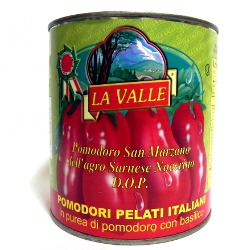 LaValle: DOP Plum Tomatoes
$4.39
La Valle D.O.P. San Marzano Whole Peeled Tomatoes 28 oz.
La Valle Italian Peeled Tomatoes in Tomato Puree with Basil Leaf - Pomodora San Marzano dell'agro Sarnese Nocerino D.O.P. Net Wt. 28 oz.
Product of Italy - Grown in San Marzano.
Every can is Licensed for Authenticity that the Tomatoes were grown in San Marzano.
Ingredients: san marzano peeled tomatoes, san marzano tomato puree, basil leaf, salt, citric acid.
La Valle DOP San Marzano Tomatoes bring Italy to your kitchen. Known worldwide for their amazing out-of-the-can flavor, these bad boys will take your every Italian dish to the next level! Garden Salads. Homemade BLT's. Fettuccine Alfredo. Is your mouth watering yet? You name it, these tomatoes make it better. Not to mention, La Valle brand are great for reducing into red pizza sauce! Pizza makers across the United States will vouch for this. The basil makes the sauce ultra tasty. Whether you're trying a new Italian recipe or baking a pizza, these tomatoes are a must try. If you're still curious about their flavor and quality, feel free to ask around! We're confident that you'll hear great things from our customers! Pick some up from Penn Mac today!
"Our products come from carefully selected cultivations which guarantee the very best quality."