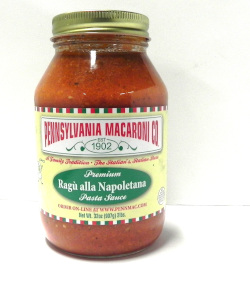 Penn Mac's : Napoletana Sauce
$8.19
Newest addition to Penn Mac!
Pennsylvania Macaroni Co. Ragu alla Napoletana Pasta Sauce
32oz
Distributed By: Pennsylvania Macaroni Co INC.

For over 100 years the Sunseri family and its great employees have provided Pittsburgh with top quality imported and specialty foods. We hope you enjoy our sauce as a part of your familyís tradition. Add this high quality ingredient to any dish to give it that gourmet touch.

Ingredients: Italian tomatoes, ground beef, pork, Italian sausage (pork, salt, fennel, black pepper, dextrose, anise, garlic, paprika, citric acid, BHA, BHT), water, onions, butter, salt, carrots, spices, garlic, black pepper citric acid paprika.
32oz Jar
Contains milk.
Looking for a Expiration date?
We use the Julian calendar:
Look on the neck of a jar of sauce for a code:
"PEN" and the next 2 numbers- means it is our company's sauce
The 2 numbers after that is the year it was produced.
The last 3 digits are the day it was produced out of 357 days in the year.
Our sauces are good for very well over 2 years!