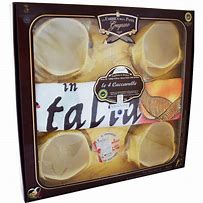 Caccavelle Shells : La Fabbrica
$11.59
This is the largest pasta in the world, it weights 50 grams per piece and has a diameter of 9 cm.
You will impress your guests for sure with this type of pasta and some yummy filling.
Caccavelle, which means pots in Neapolitan dialect, are an amazing type of giant pasta shell produced by an artisan pasta maker in Gragnano, Naples called 'La Fabbrica della Pasta Gragnano' (the Gragnano Pasta Factory).