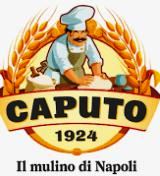 Caputo: Flour Pizzaria 5 Lb
$9.45
Penn Mac is dedicated to providing our customers with the best of the best in imported Italian goods. We would be remiss, therefore, in failing to include Caputo Pizza Flour in our inventory of pizza makers. Far and away, Caputo brand makes the very best gourmet Italian pizza flour in the world. From head restaurant chefs to stay-at-home pizza makers, the consensus is clear; people love Antico Molino Caputo.
So, what makes it so good? Why is it so popular? Well, for one, it's Italian! Only in Italy will you find flour milled with mindfulness of gluten content, purity, clarity, and general fineness. The result of such a fine-tuned, meticulous production process is a product that pleases. Caputo Italian Pizza Flour is that product - with very little ash content and very high purity. If you're looking for a product that never leaves quality up to question, you're in the right place!
It really all comes down to which flour is going to help you make the best-tasting pizza. With Caputo brand, you can be sure that you're making the right decision. The flour comes conveniently repackaged in a 5 lb bag, and is sufficient enough for roughly 8-9 12-inch pizzas. That's what we call substance! Give it a try. Let us know how you like it!