History of the Pennsylvania Macaroni Company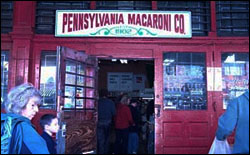 The Evolution of Pennsylvania Macaroni Company
The story of the Pennsylvania Macaroni Company is filled with pride, tradition, determination and much more. In the traditional Italian village of Trabia, Sicily there were three brothers of the proud, hard working Sunseri family who wanted to open an Italian food shop and bring their admirable work ethic to America. In 1902, Augustino, Salvatore and Michael Sunseri formed the company that is now known as the Pennsylvania Macaroni Company. They started out by manufacturing pasta and it was not easy, as it never is. But after going through the normal growing pains of starting out, things started to look up.
Even a devastating fire that might have knocked the life and determination out of many did not stop the Sunseri brothers.
From an Italian Pasta Shop to an Italian Imports Shop
With incredible guts and will, they rebuilt the store and soon pasta manufacturing blossomed into olive oil and spice retailing along with offering specialty food products and Italian cheeses. The company's nucleus was formed and in the late 1940's, Augustino's sons, Robert (Uncle Bob) and Salvatore took the reins. At this point, Uncle Bob and Salvatore could see today's phenomenal success begin to develop.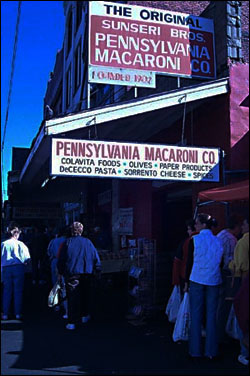 A Modern Italian Food Store
Do blood, sweat and tears pay off? The stories of the Sunseri family and of the Pennsylvania Macaroni Company are classic examples of all that hard work and dedication can accomplish. Today, Pennsylvania Macaroni Company is one of the premiere Italian specialty food operations in the country. We stock over 5,000 specialty products.
The third generation of the Sunseri family is now at the wheel and when you visit our legendary location in the "Strip District" of Pittsburgh, Pennsylvania, you will see that behind every great company are great people. Our family is easily accessible and will bend over backwards to show you how much we value your business.
Our Online Store
To keep on track with our history of exceptional commitment to customers, our website www.pennmac.com offers you the convenience of shopping from your home or work and provides some of Pennsylvania Macaroni Company's best products, including our famous Italian cheeses. But, nothing takes the place of visiting the Penn Mac tradition in person. Go to 2010-12 Penn Avenue in Pittsburgh's "Strip District" and experience this legendary Italian tradition for yourself!