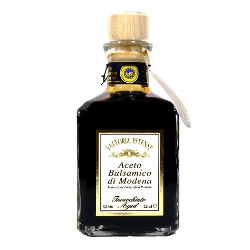 Fattoria Estense: Balsamico
$25.99
OUT OF STOCK:
Fattoria Estense - Aceto Balsamico di Modena
Oro Gold, IGP- Formerly known as Gran Riserva Balsamic Vinegar of Modena. The Italian Government will not allow the words "Twelve Year" to be on their label anymore, SAME QUALITY. Some people call it the cube balsamic!
8.5 oz
Gold Seal
"Bright dark brown color, full bodied and velvety, with an intense and balsamic flavor of woods and cooked grape must. Well balanced a sweet and sour taste. Exquisite on beef fillets and cheeses, star of your most precious dishes; enjoy it on fais-gras or ice cream.