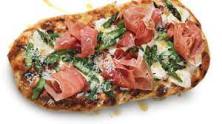 Pizza OBLONG Flat Bread Romana
$6.69
5in X 12in Oblong Flatbread Pizza Crust 2Pk
Toppings are not included
Leaves the traditional pizza crusts in the dust, You will love it!
Ingredients: Wheat, rice flour, soy flour, dried sourdough, natural flavors, water, salt, olive oil and yeast.
Preheat the oven to 400/500 F. (Best in toaster oven on air fry, or top rack in your oven).
Brush a little Extra Virgin olive oil on your crust and sprinkle with salt & pepper.
Put it in the oven for about 4 minutes, pull it back out then garnish the pinsa w/sauce & toppings.
Back in oven for approx for 7 to 9 minutes or until golden brown.