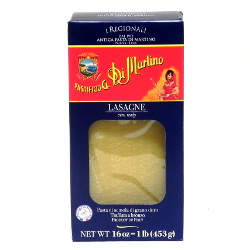 Lasagne: Di Martino
$5.79
THE SECRETS OF WHITE GOLD
PASTA SECOND ONLY TO HEAVEN ITSELF
Oven Ready-Gragnano pasta, the only pasta protected by the European IGP label, has over 500 years of history behind it.
Founded in 1912, Pastificio G. Di Martino is built on the history of a family rooted in their territory and traditions and driven by genuine devotion and irrepressible passion. 16oz.