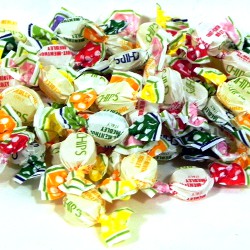 Puntini Asst Fruit Menthol
$10
OUT OF STOCK:
Product of Italy
Repackaged from bulk bags
Packed in a 24oz plastic container.
Sold by volume-weighing approx .45 to .55Lb.
You will be charged $15.99Lb according to the weight.
Packaged in a plastic bag for FedEx deliveries.
For temporary relief of a sore throat!
Active Ing: 1.25mg menthol.