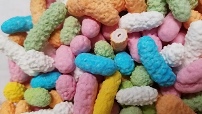 Cannellini Ricci : Bulk
$19.49
OUT OF STOCK:
WE KEEP TRYING TO GET THIS!
Cannellini Ricci
Repackaged from bulk bags
Packed in a 24oz plastic container.
Sold by volume-weighing approx 1.10Lb to 1.60Lb.
You will be charged $19.19Lb according to the weight.
Packaged in a plastic bag for FedEx deliveries.
Inspired by the little cinnamon stick candies given to wedding guests in Renaissance Italy, this fragrance is a nicely balanced blend of cinnamon with a very light touch of vanilla and sweet cane sugar.
The base notes include tonka bean & olive wood, and the middle notes include hazelnut, almond nutmeg & sweet cream.,br> Put them all together & you get a really nice cinnamon that's neither too sweet nor too strong.