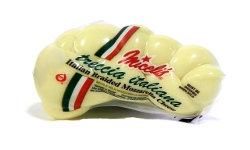 Scamorza Braid: Miceli's
$5
OUT OF STOCK

Micelis Braided Cheese
Each piece weighs between 1/2Lb to a little over 3/4Lb, we will adjust your price according to the weight and charge you $6.09Lb. The original string cheese, braided in the traditional method used by artisan cheesemakers for centuries.

Ingredients: Pasteurized whole milk, vinegar, enzymes and rennet.

Not to mention, this braided cheese is a good source of both calcium and protein. There's nothing quite like Italian braided cheese, unfortunately you'll have to wait till it's Easter again.