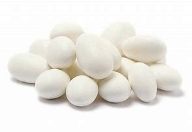 Confetti White SuperFine: 5Lb
$49.95
Five Pound's of White Superfine Fine Jordan Almonds
Are you having a wedding?
Approximately 700 white super fine white shiny almonds are in a 5Lb bag
It will fill 140 favors with 5 almonds in each.
Five almonds bring luck!
1st is for Love, 2nd is for health, 3rd is for happiness, 4th is for prosperity and finally the 5th is for a Long Life Together.
Anniversary parties always use 7 almonds
Never use an even amount, brings bad luck?
Ingredients: Sugar, Almonds, Corn starch, Wheat flour, Tapioca dextrin, Carnuba wax, natural and artificial flavors.