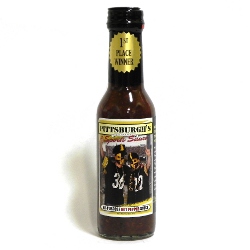 Pittsburgh's Sports Hot Sauce
$6.39
Pittsburgh Original Sports Sauce: All Purpose Hot Pepper Sauce - 1st Place Winner. Net Wt. 5oz.

Product of Pittsburgh

Ingredients: Roasted Red Peppers, vinegar, rum, fresh habanero peppers, spices, citric acid, lime juice concentrate.

A legacy of the 'Burgh, a tradition for your table.

Hey yinz guys, quit jaggin' around and get your winning team spirit fired up! Show off your legendary kitchen athletics that's make you a real Hall of Fame, in the Hall of Flame! Wanna heat up your favorite couch potato? We'll coach your cooking with easy snick-snack recipes...from sammiches to kolbassi n' at! Here We Go!