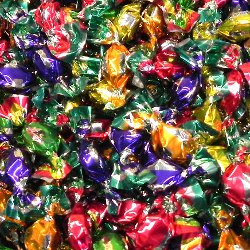 Puntini Glitterati Fruit/Berry
$10
Fruit & Berry Glitterati Puntini
Product of Italy
Repackaged from bulk bags
Packed in a 24oz plastic container.
Sold by volume-weighing approx .45 to .55Lb.
You will be charged $15.99Lb according to the weight.
Packaged in a plastic bag for FedEx deliveries.
Ingredients: Sugar, glucose syrup, natural fruit extracts, citric acid, natural and artificial flavors, colored with elderberry juice, spinach extract, paprika, tumeric and caramel color.