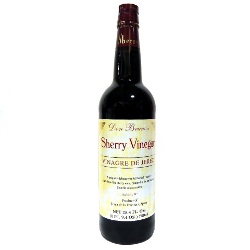 Sherry Vinegar: Don Bruno
$8.69
Don Bruno Sherry Vinegar
A uniquely delicate yet full bodied vinegar made from fine sherry wine, matured in the traditional Spanish solera system.
This vinegar is prepared naturally from the finest selected wines in the sherry-producing region of Spain, and aged by the traditional solera system.
Don Bruno Sherry Wine Vinegar is noted for its distinctive sweet sherry aroma and mellow taste.
A classic ingredient in gazpacho, this vinegar is essential in nouvelle cuisine sauces, in salad dressings, and in preparing marinades.,br> Only moderate amounts are needed to capture the full sherry flavor.
Product of Jerez de la Frontera, Spain
Net 25.4 fl. oz.