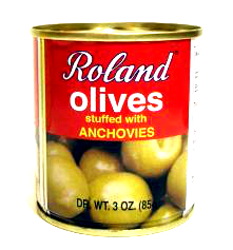 Anchovy Olive: Roland
$2.39
The anchovy is a small, silver fish with a slender body and is found scattered throughout different waters, though is especially abundant in the Mediterranean.
3oz Can
It is used in cuisines all around the world due to its versatile nature.
A popular use for anchovies in North America is as a pizza topping.
Anchovies have a characteristically strong flavor, which comes from the curing process: the fish are first salted in brine and then packed in oil or salt.
This tasty fish finds its way into these Roland brand olives, which have been stuffed with a mild anchovy paste. The process starts with medium sized green olives of high quality with no bitter taste. They are pitted and then stuffed with a mild anchovy paste for a unique flavor combination. Pop one in your mouth and you will discover the great balance between the salty olives and the creamy anchovy filling. This is a wonderful snack for all ages because the anchovy taste is subtle enough that even picky children will enjoy this treat!
Use these anchovy stuffed olives any way you enjoy most. Serve them as a simple cocktail snack before dinner (don't forget the toothpicks). Try adding them to salads for a firm crunch or use as part of an antipasto platter.