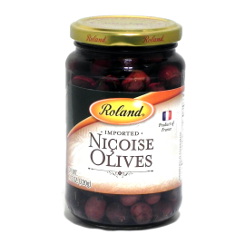 Nicoise Olives: Roland
$4.39
French Nicoise Olives from Roland
French olives are a flavorful delicacy with unsurpassed quality.
One of the most famous types is the Nicoise olive, a 100% natural black olive with a round shape and small size.
The Roland brand provides us with delicious Nicoise olives, which have been brine-cured and packed in the Provence region of France in a mixture of olive oil and spices.
7 7.76oz
Many words can be used to describe the flavor of a Nicoise olive, some of which include smooth, rich, nutty, mellow, and unique. Some are surprised that such a small, unassuming olive can pack so much flavor. But don't worry, the flavor is not overpowering so you can cook with these olives, which will add great flavor to many of your favorite recipes.
Use these Nicoise olives in antipastos or as a simple garnish. Add them to a Nicoise salad (which uses different vegetables topped with tuna and anchovy), a puttanesca sauce or various pasta dishes. The flavor of Nicoise olives goes well with seafood making them a wonderful topping for poached fish dishes. The olive also compliments Spanish cuisine including tapas and many types of paella.
For a great cheese pairing, try Parmigiano-Reggiano or aged blue cheese. And for the appropriate wine pairing, combine with a Merlot or a Cabernet Sauvignon.