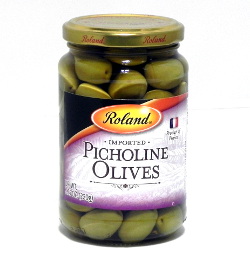 Picholine Olives: Roland
$4.59
French Picholine Olives from Roland 7.75OZ.
From the delightful Roland Brand, we at Penn Mac bring you Picholine olives from France. The Picholine olive is a rare French import (the trees yield very small crops) that is typically grown in Southern France within the regions of Provence, Cote d'Azur and Languedoc. These French olives are green in color, medium in size and are torpedo shaped, similar to an almond. The olives are full-bodied and have a tart, balanced flavor, which is complimented by floral, fruity notes.
The Roland brand imports this delicacy from France with the pit intact and then packs them in a simple brine along with some delicate spices. With a firm and crisp texture they are not overly salted or heavily spiced. This makes them a great choice for cooking because they won't alter the consistency of your dish.
These olives are fabulous served cold as part of an appetizer tray, on salads or as a garnish for cocktails (they are classically known as a cocktail olive). For a tasty cheese pairing that your taste buds will appreciate, serve this olive with some aged provolone. It also goes extremely well with fish and other kinds of seafood like salmon. And for a great variation and new flavors, try marinating these Picholine olives in olive oil, garlic and tarragon.