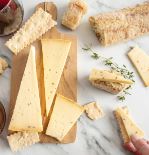 Gouda W/ Truffles Lb
$19.99
Hay There with Truffles is a creamy, smooth unpasteurized milk Gouda with a generous sprinkling of delicate black Italian summer truffles.
Lb Pc
Crafted from the milk of Holstein-Fresian cows, the breed developed for its dairying prowess in Holland.
Made on the Bouter single herd family farm for 4 generations.
Each wax-coated wheel is aged for over 60 days, during which time it develops a dense paste and a sweet, grassy and milky flavor.
Enjoy this gem from Holland with good bread and bold red wines.
Or go a little naughty and make the most indulgent truffled mac and cheese ever!