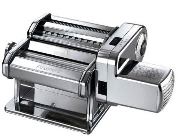 Pasta Machine w/Motor: Atlas
$180
Made in Italy-Marcato's Original World-Famous Atlas 150 Pasta Machine and the Pasta Drive Motor Set rolls pasta dough, with the convenience of electric power, and cuts traditional lasagne, fettuccine, and tagliolini.
Called the Ferrari of the pasta machine world by Cook's Illustrated.
Easily roll dough up to 150-millimeters wide and to 10 different thicknesses, paper-thin 0.6-millimeters to 4.8-millimeters. The motor attaches in just seconds with the bayonet-style fitting for 110volt-60Hz 100Watt of extra processing power (UL listed 62HA, household use only).
Dual speeds, continuous or pulse, allow a comfortable customized pace.
Rolled pasta dough offers a consistent texture, cook time, and taste, plus it absorbs more delicious sauce.
This set includes the Atlas 150 Pasta Machine (chrome-plated steel, 10-year manufacturer's warranty), pasta cutter, hand crank, clamp, instructions, and the Pasta Drive Motor (durable metalized ABS, 2-year manufacturer's warranty).
All items are made in Italy, wiped clean with a dry cloth after each use.