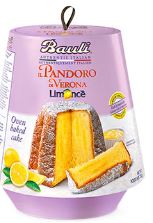 Bauli: Lemon Pandoro
$20.59
Pandoro with lemon cream filling by Bauli is an exquisite take on traditional Italian Christmas cake.
This ready-to-serve delight is elevated with rich lemon-flavored cream and sugar icing.
750g

Ingredients: Wheat flour, sugar, pasteurized liquid eggs, anhydrous butterfat from cow milk, natural yeast, glucose fructose syrup, mono- and diglycerides, dextrose, skimmed milk powder, ethil alcohol, pasteurized liquid egg yolk, sunflower oil, salt, cream, artificial flavors, pectin (thickener), Italian lemon peel extract, potassium sorbate (preservative). Sugar sachet: powdered sugar, wheat starch, artificial flavors. Contains: Wheat, egg, milk. May contain: Tree nuts (hazelnuts, almonds, macadamia nuts, coconut, pistachios) and soy. THIS PRODUCT CONTAINS A TRACE AMOUNT OF ALCOHOL. Store in a dry place, far from heat.