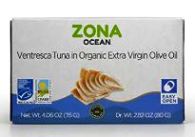 Zona: Tuna Ventresca
$9.29
ZONA Ocean Ventresca Tuna Belly in Organic Extra Virgin Olive Oil.
Lean tuna high in protein and Omega-3, low sodium.
Hand Packed in Spain
Size: 115gr-4.06oz-Easy Open Can
Ventresca Tuna Belly MSC (Thunnus Alaluna), extra virgin olive oil*, sea salt.
MSC Certified (Marine Stewardship Council) is a sustainably sourced product from our oceans.
Recommended use: Salads, as a tapa, sauces, sandwich, and as an everyday healthy snack.