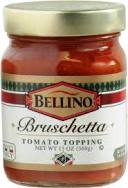 Bruschetta Tomato : Bellino
$7.49
Bellino Tomato Bruschetta combines fresh vine-ripened tomatoes, garlic, Italian spices and extra virgin olive oil for a delicious topping.
13oz. Jar
Serve on Bellino Bruschette, crackers or flatbread for the perfect light appetizer.
Ready to use right out of the jar, this bruschetta can be stored in the refrigerator for later use.