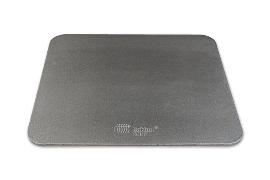 The Original Baking Steel
$119
The Original Baking Steel
Made in the USA, virtually indestructible
For home ovens, grills, induction, camp fires, and more
Does more than just pizza! Great for rustic breads
Pre-seasoned with our proprietary oil
16" x 14" x ¼" | 16Lbs
An unlikely product that was 40 years in the making.
My dad's a steel man. My brother's a steel man. And I suppose somewhere deep inside I'm a steel man, too. My family owns the Stoughton Steel Company in the South Shore of Boston, where we've made industrial steel products for over 40 years.