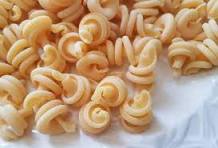 Vesuvio #50: Gragnanesi
$5.69
Pastai Gragnanesi, Pasta di Gragnano IGP
Organic Pasta of Duram wheat.
#50 Vesuvio
Inspired by the currently dormant Vesuvius volcano that towers over Naples and dominates the surrounding area, vesuvio pasta is a fabulous modern pasta shape that looks beautiful and holds sauces really well.
Vesuvio pasta is a short pasta with a larger base gradually spiraling up to a thinner tip.
Some people also say it looks like a spinning top!
500g.