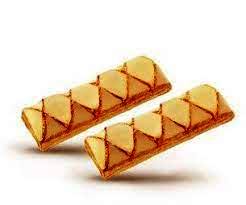 Balocco : Sfogliatine
$3.29
Sfogliatine Italian Cookies
Product of Italy
7.05oz
Ingredients:
Wheat flour, icing 28% (sugar, albumen), vegetable margarine (vegetable oils and fats, water, emulsifying agents: mono and diglycerides of fatty acids, acidity corrector: citric acid, flavourings), apricot decoration 5% (glucose syrup-fructose, sugar, apricot puree 20% corresponding to 1% of the total ingredients, water, modified maize starch, gelling agent: pectine, acidity corrector: citric acid, flavourings), butter, glucose syrup, salt, wheat and barley malted, flavourings.
May contain traces of tree nuts.
"Balocco's passion for sweets dates all the way back to 1927, when Francesco Antonio Balocco opened his first confectionary shop in Fossano, in front of the Castle of the Princes of Acaja. Soon after a second one will be open in the central street of Via Roma. It is here that the expertise and passion for quality shown by these craftsmen gave life to one of the most famous Italian confectionary trademarks."
Sfogliantine
is a light, flaky pastry with an exquisite icing decorated with a thin layer of apricot jam. Ideal for garnishing cakes and ice cream or to savour with a good cup of tea.