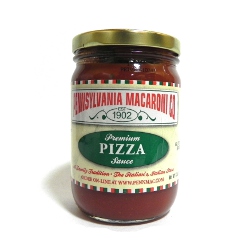 Penn Mac's: Pizza Sauce
$3.79
Pennsylvania Macaroni Co. Premium Pizza Sauce 12oz.
For over 100 years the Sunseri Family and its great employees have provided Pittsburgh with top quality imported and specialty foods.
We hope you enjoy our pizza sauce as a part of your family's tradition.
Ingredients: Tomato Puree (water, tomato paste), High Fructose Corn Syrup, Fresh Onions, Salt, Fresh Carrots, Fresh Garlic, Beef Stock Concentrate (beef stock, natural flavors, salt, vegetable stocks [carrots, onion, celery], bay leaf, thyme, peppercorn), Spices.
Gluten Free

Looking for a Expiration date?
We use the Julian calendar:
Look on the neck of a jar of sauce for a code:
"PEN07"- means it is our company's sauce
The "20" is the year it was produced.
"333"-The last 3 digits are the day it was produced out of 357 days in the year.
Our sauces are good for very well over 2 years!