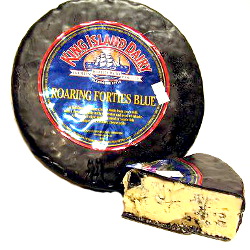 Australia:Roaring 40's Blue Lb.
$26.99
Forties Blue
The Australians make this full flavored blue from pasteurized cow's milk with a sweet, slightly nutty character and good aftertaste.

Roaring Forties Blue Cheese is made on King Island situated south of Melbourne, Australia at the western end of Bass Strait. According to legend, grass seeds found in King Island's soil are believed to have been washed ashore from some 60 eighteenth-century French and English shipwrecks that are laid along coast.

For almost a century now, dairy herds have grazed on these pastures. The quality of these pastures, combined with a the environment, combined with a year round growing season, enables the dairy farmers on King Island to practice traditional feeding methods. The cows are reputed to produce the sweetest milk and from this milk comes a range of dairy products acknowledged throughout Australia and rapidly earning the same sort of reputation worldwide.