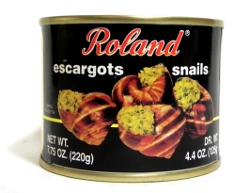 Escargots Giant: Roland
$4.59
Roland Brand: Escargots Snails - Net Wt. 7.75oz / Dr. Wt. 4.4oz.
Product of Indonesia

Ingredients: snails, water, salt, pepper, laurel, cloves, citric acid.

Directions for Use: Drain contents of can. Clean snail shells in boiling water. Place a bit of the butter sauce (prepared as in the recipe below) in each shell, then place a snail in each shell and cover with the rest of the butter sauce. Place the prepared snails in a hot oven (about 400 degrees Fahrenheit) until snail butter is bubbling. Serve Hot.

Butter Sauce for 1 Dozen Snails: Blend 6 tbsp. butter, 1 clove finely chopped garlic, 1 tsp. finely chopped shallots, 1 tsp. finely chopped parsley and salt & pepper to taste. A dash of brandy or Madeira also may be added.